Harrison F-Trucks Shelby F-150
---
July 1, 2019
Categories:
Highs and Lows. If you've got the hunger for a Shelby F-150 pickup, Harrison F-Trucks can deliver it to you in a choice of two very tasty flavours.
If a HiLux is too common, a Colorado too small and a Ranger Raptor not tough enough, then you need to take a closer look at a Shelby F-150! And the place to take a closer look is Harrison F-Trucks.
Going Big
Harrison Motor Group (HMG) has been a part of the auto trade for more than five decades. Based in Melton, northwest of Melbourne, the family-owned business currently has Hyundai, Isuzu and Suzuki franchises, as well as a used car division. There's a model car shop under the HMG umbrella, too, which is an interesting contrast to what's next door – Harrison F-Trucks.
The roots of Harrison F-Trucks go back to the dawn of the new millennium, when Keith Harrison of HMG saw an opportunity to meet the growing need for larger, American-style pickups in the Australian market by bringing in Ford F-Series vehicles and having them locally converted.
Partnering with Melbourne-based conversion specialists VDC, Harrison F-Trucks first started selling the F-150 in 1983 and were one of the largest-selling dealers of the Ford-delivered Brazilian up until 2006. When Ford Australia ceased imports of the product, HMG continued: this was all taking place well before HSV started converting Chevy Silverados and RAM started their Australian remanufacturing operations, so it was a smart read of the local market on Harrison's part.
The success of the business was almost immediate, not only because HMG had identified that market niche, but also because they ensured the vehicles that left their showroom were well engineered. All the Ford F-Series and Super Duty pickups converted and sold by Harrison's F-Trucks meet the latest Australian Design Rules and Motor Vehicle Standards Regulations. The company has full volume compliance on the Super Duty range, too.
Given their commitment to producing a quality product, it's no surprise that there are more than 1,000 examples of Harrison's Ford F-Series and Super Duty pickups currently in Australia, so going big has been a big success for HMG!
Harrison F-Trucks are Australia's largest supplier of new and used F-Series trucks and stock the standard Ford F-150 and Super Duty, the F-150 Raptor, Black Ops F-150 and Super Duty, Tonka F-150 and the subject of this feature, the Shelby F-150…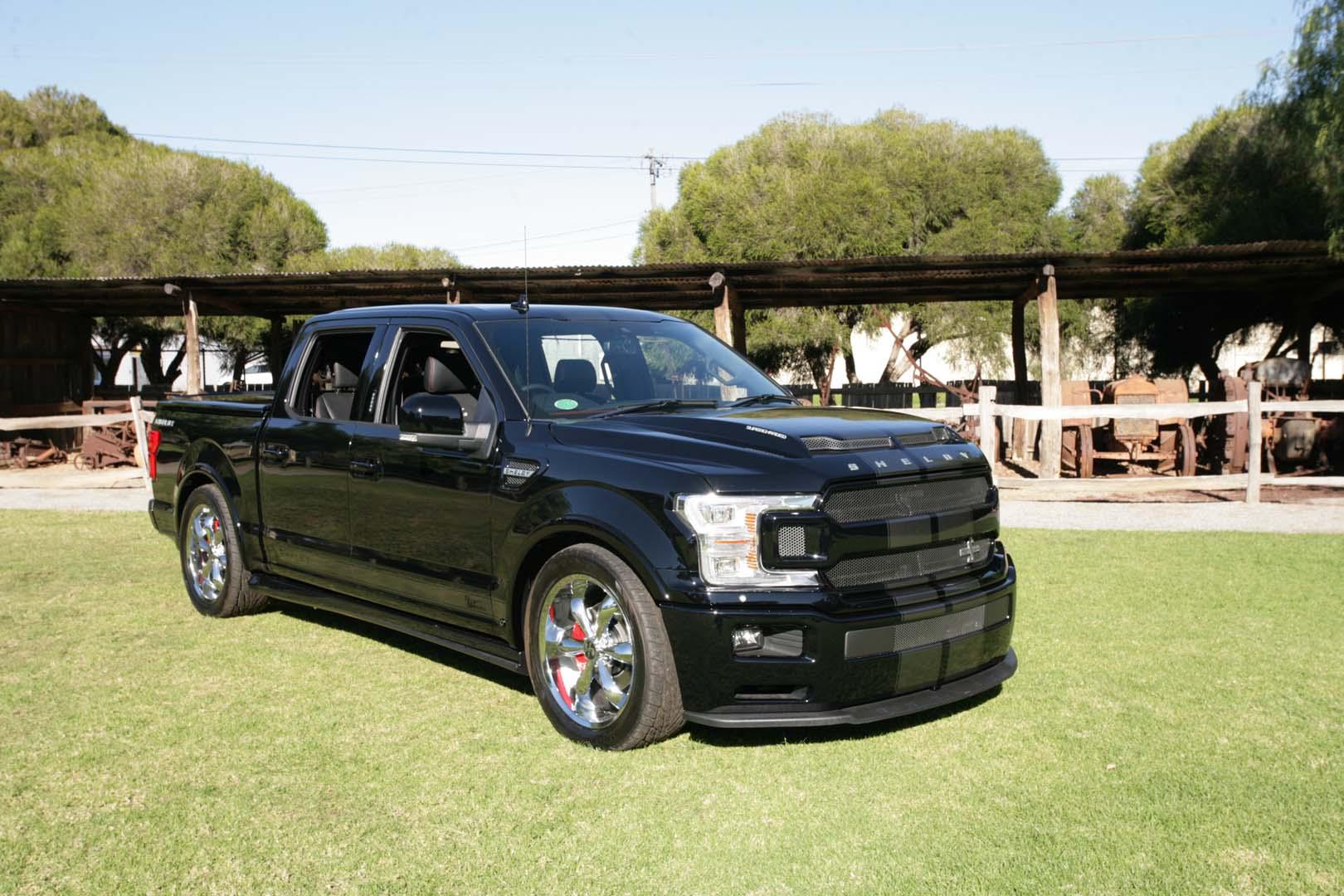 The Shelby Touch
If you're not already familiar with the name, Shelby American are to Ford USA what FPV used to be to Ford here in Australia – a specialised upgrade company that takes production Ford vehicles and gives them more performance and much more visual appeal.
The Shelby connection to Ford goes back to 1965, when Carroll Shelby first turned the Ford Mustang into a racecar. In the decades that followed, Shelby both left and returned to the Ford family, with Shelby Mustangs returning to US showrooms in 2005.
A few years later, Shelby American offered an upgrade kit for the Ford SVT Raptor pickup, then a turnkey 'Baja 700 Raptor', which led to the Shelby F-150 being released in 2016.
Giving America's top-selling vehicle the Shelby touch started by partnering with Tuscany Motor Co., who produce the Black Ops and Tonka F-Series trucks. While Shelby American design and specify the componentry, the actual construction of the Shelby F-150 is done by Tuscany.
Limited to 500 units for that debut year, the success of the first Shelby F-150 has seen it become available every year since. The popularity of this high-style, high-performance pickup has spread far beyond North America, too.
While the first Shelby F-150 was in the mould of the Baja 700 Raptor, with a body lift, heavy duty wheels, off-road tyres and performance suspension designed for fanging it through the dirt and desert, there's now an alternative.
Introduced in 2017, the Shelby F-150 'Super Snake' has all the supercharged 755hp V8 goodness of the original, but in a much more street-friendly package, with lowered suspension, a different wheel design and low-profile road tyres.
Harrison F-Trucks sell both and call the two variants the 'off-road' and the 'street'.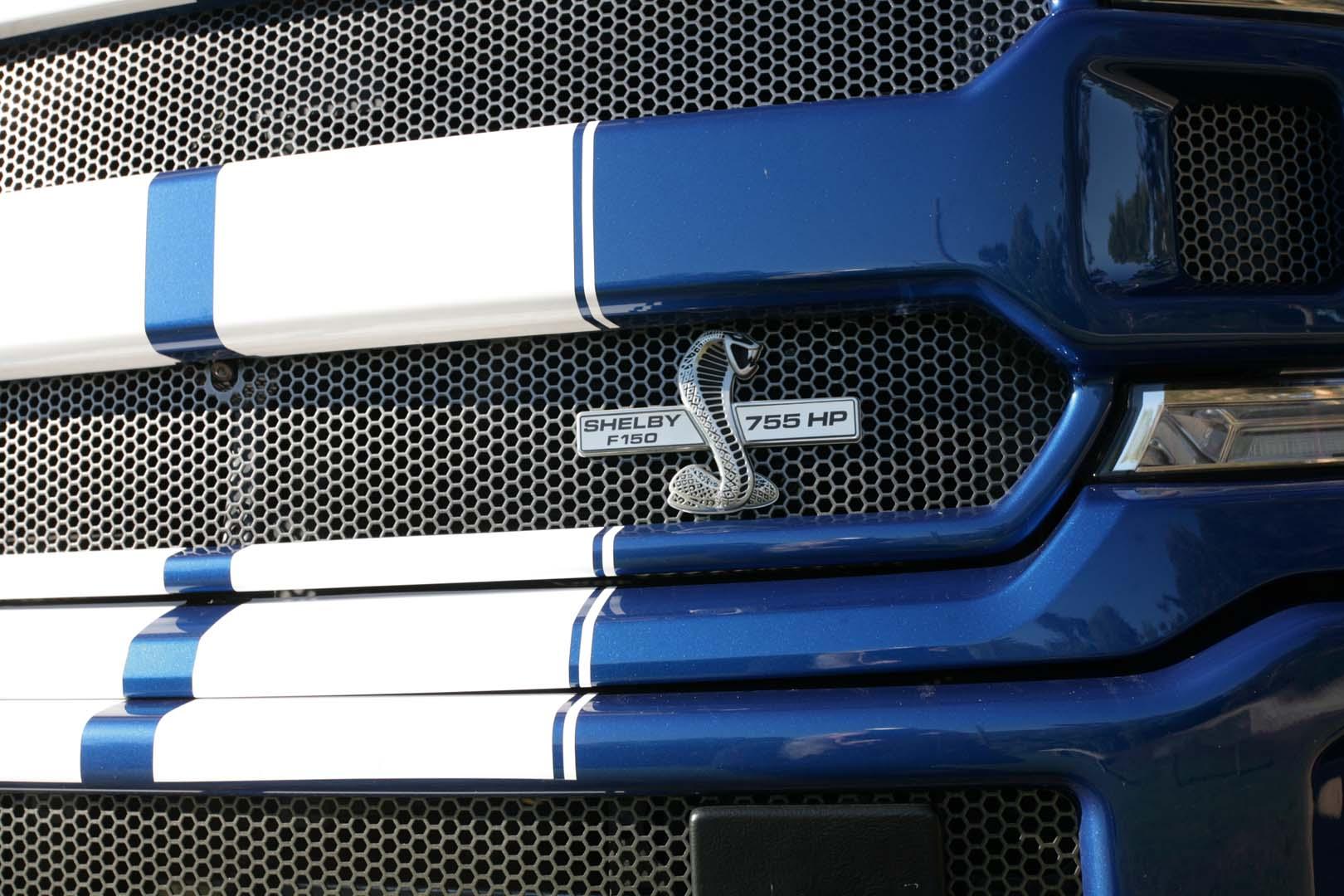 High Times – Shelby F-150 off-road
When you run through the spec list for the Shelby F-150, you have to start with what's under the bonnet.
A Ford 5.0-litre Coyote V8 drives this beast, which puts out 395hp (295kW) in standard form, but Shelby strap a Whipple supercharger onto this for a serious 755hp (563kW), which is optional in the US, but how most of the Australian-delivered vehicles are supplied.
In addition to the supercharger, there's an Open Air Performance intake and high-flow air filter fitted, along with an oversized carbon fibre air intake tube, upgraded throttle body and injectors, performance aluminium heat exchanger and Shelby-tuned Borla performance exhaust system with black ceramic tips.
To ensure enough air gets into the engine, the Shelby F-150 features a bespoke bonnet with dual 'Ram Air' openings, with additional vents in the front guards, too.
The V8 is matched to a 10-speed auto and standard 4WD system from the F-150 Lariat Luxury model that the Shelby is based on.
To the dual cab body, Shelby adds fender flares, vents and a custom front bumper in body colour, a honeycomb grille insert, body-coloured rear bumper and hard tonneau, full-length dual body stripes and Shelby identification on the flanks, bonnet, tailgate and load bed.
Shelby 20-inch alloy wheels have a beadlock look and are shod with BFG All-Terrain K02 35/12 50R20 tyres, while the lift – around 4 inches – comes from a BDS Suspension package developed by Shelby using Fox Shocks, similar to what's used in the F-150 Raptor in the US.
Rear performance traction bars also feature, along with Shelby side steps, while the speedo and tyre pressure sensors are both recalibrated to suit.
Inside, there's a carbon fibre interior trim package, Shelby numbered dash plaque, window tint and branded floor mats. Seats are retrimmed in leather with the Shelby Snake logo embroidered in, while the same logo also adorns the centre console lid.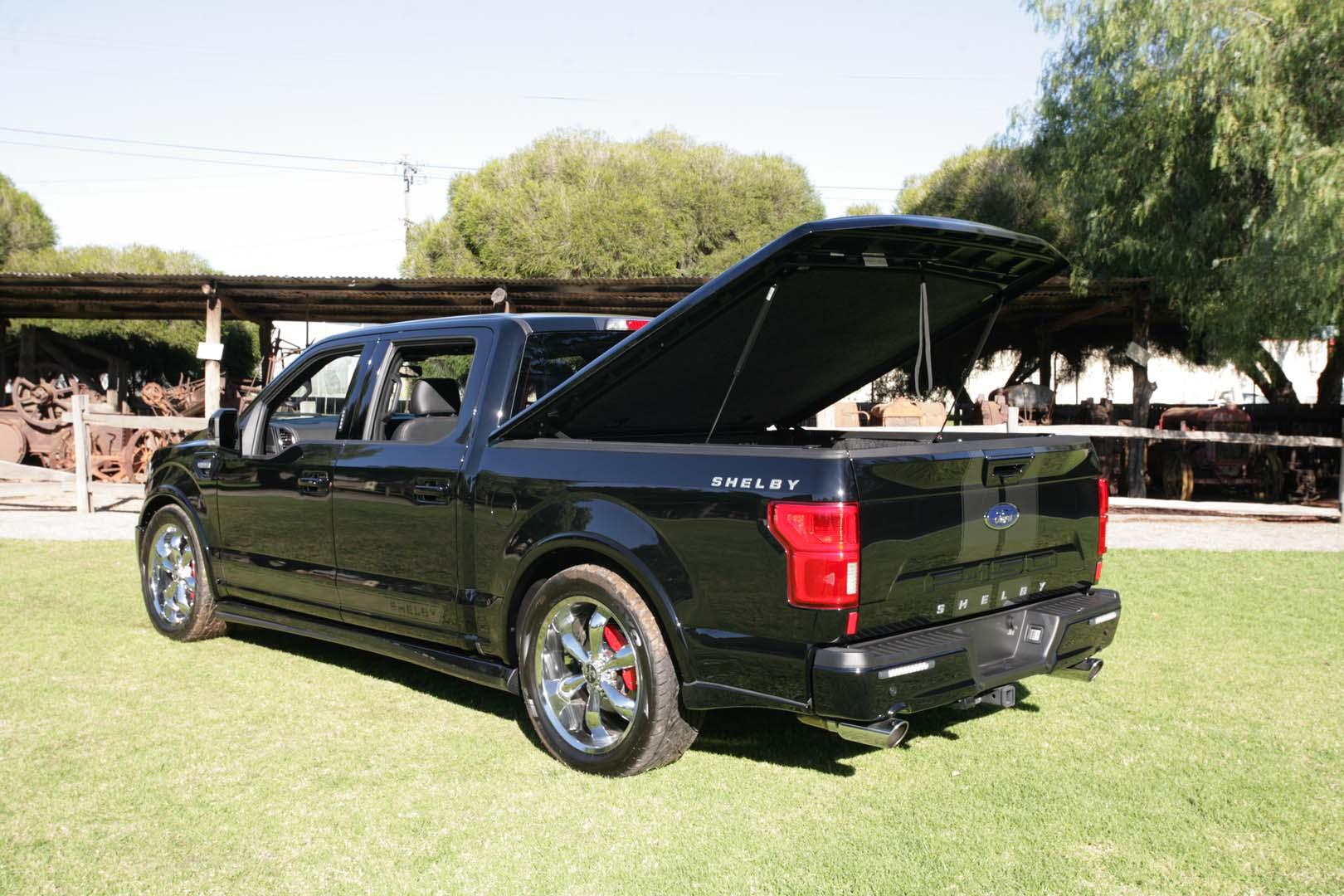 Low & Go – Shelby F-150 street
While Shelby F-150 production remains at 500 units per year, the Super Snake version is much more exclusive, with only 150 examples built annually.
The Super Snake is essentially a return to the muscle truck era that saw workhorse pickups lowered and fitted with a high-performance drivetrain that could embarrass muscle cars and even some supercars.
In the Super Snake, the drivetrain is the same 5.0-litre Coyote V8 seen in the lifted version, matched to the same Borla exhaust, 10-speed auto and shift-on-the-fly 4WD system. The main difference is that the 755hp supercharger is standard and the exhaust tips are polished stainless steel, instead of black.
But where the regular Shelby F-150 goes high, the Super Snake goes low, dropping the suspension by around two inches from the base F-150 and fitting bright chrome 22-inch Shelby wheels and low-profile Toyo Proxes ST III performance road tyres in a much slimmer 305/45R22 size.
In the US, the performance drivetrain is available in 2WD and 4WD, but the units sourced by Harrison's are all 4WD.
Aiding the low look of the F-150 Super Snake is a full ground effects kit in body colour, with the same dual intake Ram Air bonnet, front bumper, functional fender vents, honeycomb grille insert and fender flares from the lifted version fitted, also in body colour.
Identifying Shelby Racing dual stripes are as per the lifted version, too, with front, rear and side Shelby badging, grille snake badge and Shelby branding in the fender vents also carried over.
The painted hard tonneau cover arguably looks better on the Super Snake than the lifted F-150, but the Super Snake gets a bedrug fitted as standard that even extends to the tailgate.
Inside, the spec is defined by retrimmed front and rear seats, but with Super Snake embroidered identification (rather than the snake logo), with this change also applied to the floormats.
The numbered dash plaque, snake logo on the console lid and carbon fibre interior package from the lifted F-150 are all standard fitment on the Super Snake, too.
Both Shelby F-150 variants are available in a choice of six colours – Ruby Red, Race Red, Magnetic (silver), Oxford White, Lightning Blue and Black.
Shelby for You?
Thanks to their association with an LA-based Ford dealer, Harrison F-Trucks secure a handful of Shelby F-150 pickups annually. This year, ten examples of the Shelby F-150 have been brought over, along with five units of the Super Snake. Of those totals, half have sold already, with the remainder sure to be gone before the year's out.
So how do you get one of these beasts? Simply get in touch with Harrison F-Trucks. The team knows these vehicles inside and out, but they also value their customers, so will spend time with you, discussing exactly what you're looking to get out of your truck – to make sure you get the right one.
Every truck is backed by a 4-year/130,000km warranty and a premium roadside assistance programme. Harrison F-Trucks also stock a variety of F-Series parts and accessories.
To find out more, contact Harrison F-Trucks on (03) 8722 7755, call into the showroom at 164 High St., Melton, or go to: harrisonftrucks.com.au
Special thanks to The Willows Historical Park for access for the photo shoot.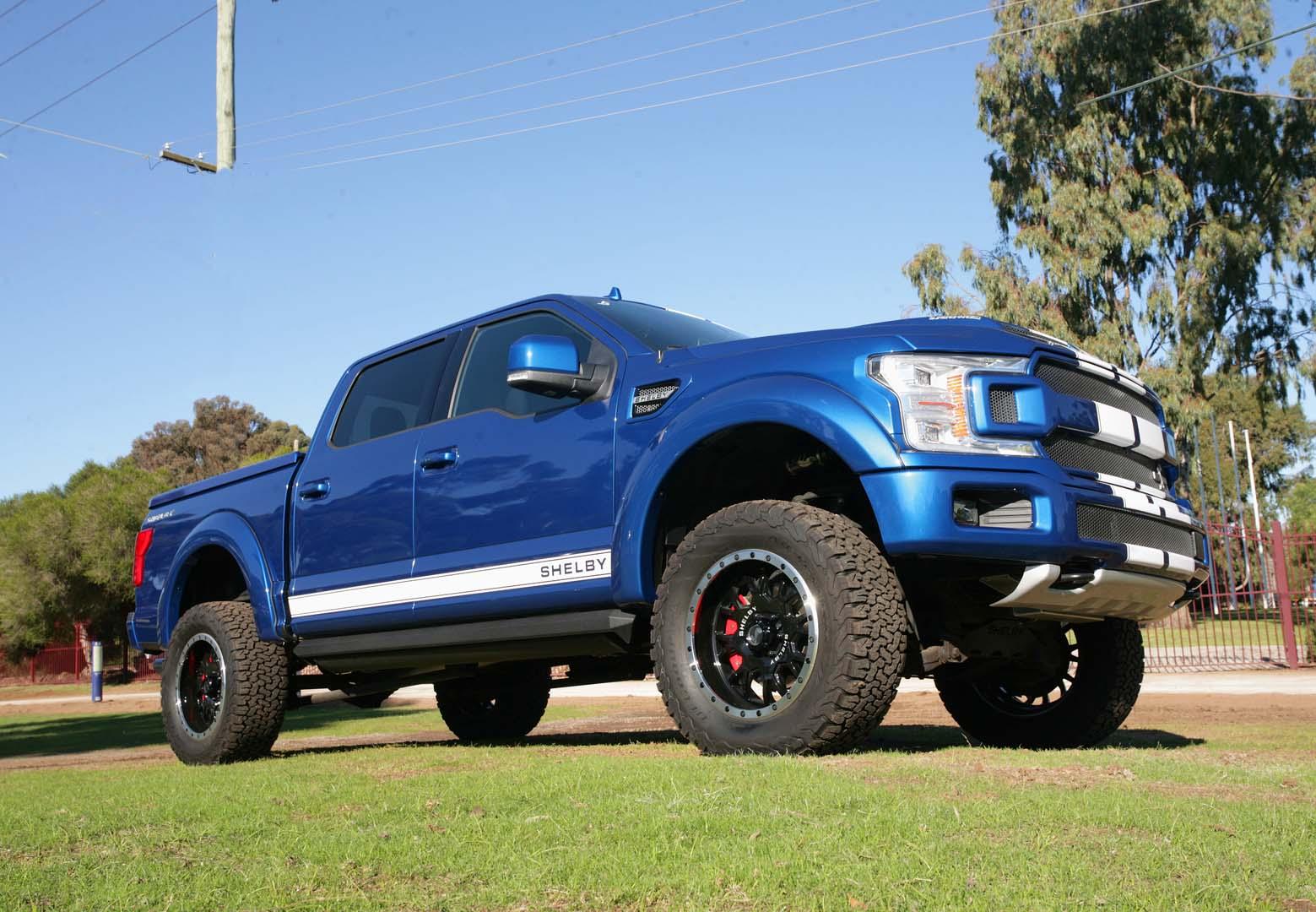 More at www.just4x4s.com.au